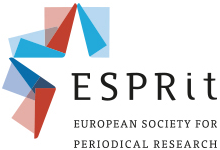 ESPRit Postgraduate Workshop on Periodical Studies
11 June 2021

Deadline for 500-word abstracts: 31 January
Due to the Corona pandemic, the Postgraduate Workshop is postponed to 11 June 2021.

In conjunction with the conference, a postgraduate workshop will be held on 11 June 2021. We seek applications from graduate students working on any topic with regard to periodicals from any historical period, geographical origin, and cultural context. The workshop is open to postgraduate students working in any discipline in the humanities and social sciences and using any methodology or approach. Priority will be given to advanced doctoral students, but applications by graduate students at any stage of preparation of their dissertation will also be considered. Personalised feedback will be offered by a committee comprising ESPRit members and members of the DFG Research Unit 2288 Journal Literature. Participants of the workshop will have their conference fee waived. Furthermore, we seek to secure funding for travel expenses and accommodation.
We look forward to welcoming you to Ruhr University Bochum!