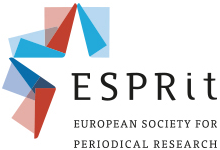 Periodical Formats in the Market:
Economies of Space & Time, Competition & Transfer
14–16 June 2021, Ruhr University Bochum, Germany,
organised by the DFG Research Unit 2288 Journal Literature
Due to the unforeseeable short-term development of the Covid-19 pandemic, the 9th ESPRit conference will be conducted as an online conference. Further information will be published soon.
The 9th conference of the European Society for Periodical Research, held at Ruhr University Bochum, Germany, from 14–16 June 2021, welcomes proposals for original papers, panels, and roundtables concerning the conference topic: Periodical Formats in the Market: Economies of Space and Time, Competition and Transfer. The conference aims to bring together experts and scholars from various disciplines of periodical studies. We welcome proposals from researchers at all stages of their careers.
The Call for Papers can be found here!