The findings of the research group "Journalliteratur" are published in printed or digital form, depending on the requirements of the presentation.
Printed publications of the research group are published by Wehrhahn-Verlag, Hannover, in the newly founded series "Journalliteratur", the trademark of which is a variety of formats based on the materiality of the objects of investigation. Here, monographs from the project work find their place, as does the documentation of international conferences spanning individual projects, as well as outstanding thematically related dissertations/habilitations from the institutional environment of the research group.
The style sheet for the series "Journal Literature" can be found here.
In addition, the "Pfennig-Magazin zur Journalliteratur" (Pfennig Magazine for Journal Literature) is available in quarto format for publications of shorter length (between essay and monograph).
---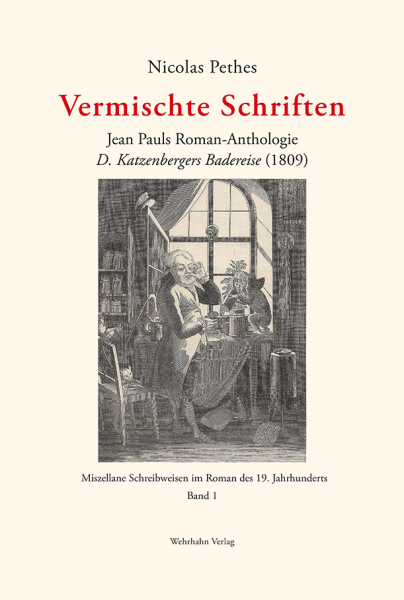 The sixth volume of the book series »Journalliteratur« has just been published.
Nicolas Pethes: Vermischte Schriften. Jean Pauls Roman-Anthologie D. Katzenbergers Badereise (1809). Hannover 2022. (ISBN 978-3-86525-908-0)
Abstract
Die Literatur des 19. Jahrhunderts ist aufs engste verknüpft mit dem Publikationsmedium der Zeitschrift, deren Eigenheiten auch die ästhetische Form von zeitgenössischen Texten prägen. Während bezüglich dieser Zeitschriftenförmigkeit der Literatur bislang nur der Aspekt der Serialität beachtet wurde, rückt die vorliegende Fallstudie die komplementäre Dimension der Miszellanität, d.h. die Nebeneinanderstellung gänzlich heterogener Einzeltexte, in den Blick: Am Beispiel der Erstausgabe von Jean Pauls D. Katzenbergers Badereise wird gezeigt, wie dieser Roman von Beginn an als Anthologie vermischter Schriften konzipiert wurde und dabei ein Modell moderner Prosa realisiert, das sich homogenisierenden Lektüren entzieht.
---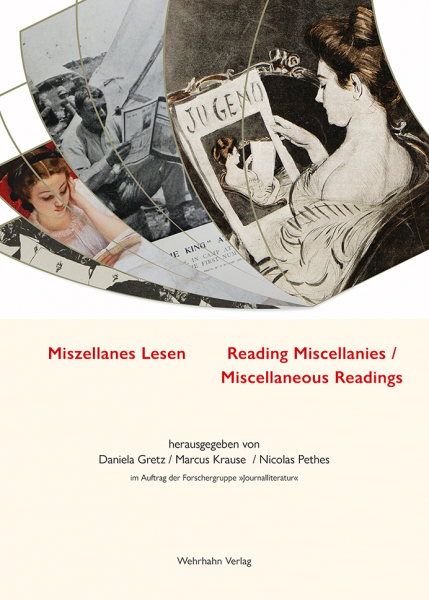 The fifth volume of the book series »Journalliteratur« has just been published.
Daniela Gretz / Marcus Krause / Nicolas Pethes (eds): Miszellanes Lesen / Reading Miscellanies · Miscellaneous Readings. Interferenzen zwischen medialen Formaten, Romanstrukturen und Lektürepraktiken im 19. Jahrhundert / Interrelations between Medial Formats, Novel Structures, and Reading Practices in the Nineteenth Century. Hannover 2022. (ISBN 978-3-86525-889-2)
Abstract
This volume presents readings of miscellanous media formats such as collections, newspapers, magazines, anthologies, and paperbacks, as well as of novel structures and narrative procedures associated with these formats (in Jean Paul, Gottfried Keller, Wilhelm Raabe, Theodor Fontane, and Veza Canetti, among others). On the one hand, historical reading practices such as 'nomadic', 'scattered' or 'miscellanous reading' and their (medial) self-reflection are taken into account, on the other hand, aporias of current scientific reading theories and reading practices of 'close', 'distant' and 'scalable reading' are pointed out. Miscellaneity is understood as a basic medial format condition that guarantees a broad reader addressability by mixing diverse short or fragmented text types, image formats, and manifold heterogeneous topics designed to be continued. In this way, the concept can be established as a complementary term to seriality, which has recently been widely discussed in media history informed literary studies research. The anthology documents the third international conference of the DFG research group "Journal Literature".
---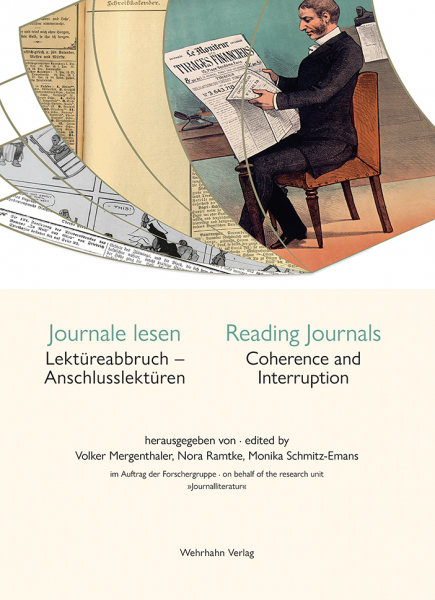 The fourth volume of the book series »Journalliteratur« has just been published.
Volker Mergenthaler / Nora Ramtke / Monika Schmitz-Emans (eds): Journale lesen / Reading Journal. Lektüreabbruch – Anschlusslektüren / Coherence and Interruption. Hannover 2022. (ISBN 978-3-86525-889-2)
Abstract
This volume proceeds from the second international conference of the DFG Research Unit 2288 »Journal Literature«. The contributions examine periodicals from the late 18th to the early 20th century, taking as a methodological starting point the materiality of the published form and its potential to condition reception. The specific temporality and materiality of periodicals shape processes of generation and superimposition of meaning; here, both the conditions and consequences of these processes are explored. The connection between materiality, visual and temporal logics of format, and reading practices is the key focus of »Reading Journals: Coherence and Interruption«.
---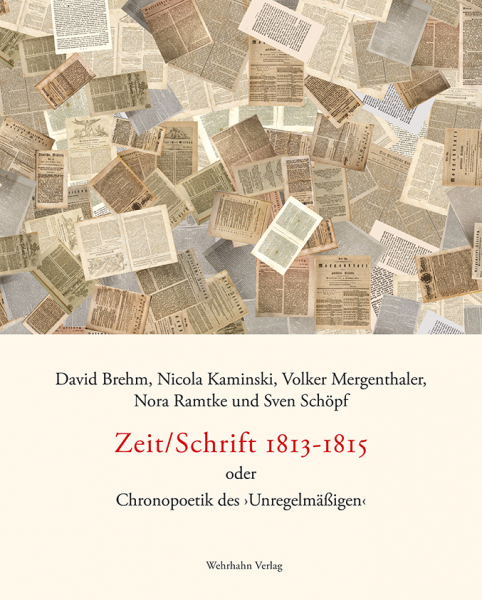 The third volume of the book series »Journalliteratur« has just been published.
David Brehm / Nicola Kaminski / Volker Mergenthaler / Nora Ramtke / Sven Schöpf: Zeit/Schrift 1813-1815 oder Chronopoetik des >Unregelmäßigen< Hannover 2022. (ISBN 978-3-86525-863-2)
Abstract
Als von Frühjahr 1813 an, beginnend mit Preußen, die deutschen Territorien sich sukzessive von der französischen Herrschaft befreien und bis zum Sommer und Herbst des Jahres allmählich sich eine politisch-militärische Allianz gegen Napoleon formiert, wird all dies vielerorts publizistisch begleitet: in Berlin, in Altenburg und Leipzig, in Freiburg im Breisgau, in Koblenz, in Wien, ja die preußische Feldbuchdruckerei folgt der Armee der Alliierten nach dem Rheinübergang im Dezember 1813 sogar nach Frankreich bis zum Einzug in Paris. Gemeinsam ist diesen neu entstehenden, zwischen Zeitung und Zeitschrift changierenden deutschsprachigen Blättern, daß sie in den Freiräumen, die sich zeitweilig in den machtpolitisch unübersichtlichen Verhältnissen 1813–1815 gegenüber der Normalität von Zensur eröffnen, relativ spontan und meist kurzlebig diskontinuierliche Zeiterfahrung zu verschriften suchen und dabei mit der seriellen Normalität von Journal experimentieren. Was daraus für die typographische Materialität, die textuelle Kohärenz und für die Periodizität von Journal resultiert, läßt sich auf den Begriff einer Chronopoetik des ›Unregelmäßigen‹ bringen.
Solchen Inszenierungen von als unregelmäßig erfahrener Zeit durch performative Regelverstöße im Druckmedium selbst läßt sich analytisch adäquat nicht mit der Systematik einer wissenschaftlichen Abhandlung begegnen, ohne daß Wesentliches auf der Strecke bliebe. Die Konsequenz ist die Entscheidung für ein experimentelles: ein zeitungsförmiges Buch.
---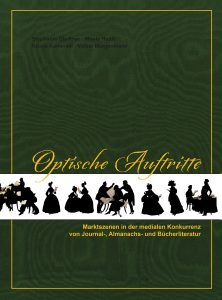 The second volume of the book series »Journalliteratur« has just been published.
Stephanie Gleißner / Mirela Husić / Nicola Kaminski / Volker Mergenthaler (eds): Optische Auftritte. Marktszenen in der medialen Konkurrenz von Journal-, Almanachs- und Bücherliteratur. Hannover 2019. (ISBN 978-3-86525-714-7
)
Abstract
Wer sich in der ersten Hälfte des 19. Jahrhunderts ins bunte Gewühl des literarischen Markts stürzt, wird sogleich heftig umworben, nicht nur seitens der meist in Oktav gedruckten Bücher, sondern gerade auch der Unterhaltungsblätter (in Quart) und des zierlichen Duodez- oder Sedezgeschlechts der Taschenbücher und Kalender. Der Kampf um die Zuneigung des »geliebten Lesers« und der »nie genug zu liebenden Leserinn« (so publikumszugewandt das Taschenbuch für Frohsinn und Liebe auf das Jahr 1826) wird mit ganzem Körpereinsatz geführt, mitunter auch mit samtenen oder seidenen Bandagen.
Angefangen bei der Vielfalt möglicher Einbände, zwischen denen die Leserin, der Leser wählen kann, über die verschiedenen Formate, Goldschnitt, ja Lettern und mise en page bis hin zur Qualität des Papiers – der Körper der Literatur in seiner visuellen und haptischen Dimension tritt auf dem Markt, verstanden als konkurrentes Ensemble der belletristischen Neuerscheinungen im jeweiligen hic et nunc, in Erscheinung: selbstbewußt, nicht etwa als beschwerendes Beiwerk eines gemeinhin als ›abstrakt‹ gedachten Textes. Daß dieser optische (und haptische) Auftritt das konstituiert, was zeitgenössisch als Literatur gelesen wird, bildet die Prämisse des vorliegenden Buchs. Es bietet, synchron und syntop, sieben Marktszenen, die, auf der Spur je eines journal- oder taschenbuchförmigen ›Protagonisten‹, in sieben Spaziergängen entfaltet werden: durch Berlin 1802/03 und 1847/48, durch Stuttgart 1816/17, Wien und Leipzig 1825ff., nochmals Leipzig 1838/39 und wieder Wien sowie Pesth 1840ff., mit Seiten-, Rück- und Wechselblicken von hier nach dort und von dort nach hier.
---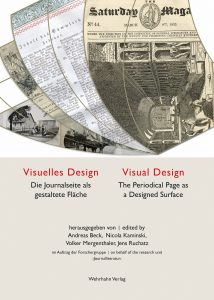 The first volume of the book series »Journalliteratur« has just been published.
Andreas Beck / Nicola Kaminski / Volker Mergenthaler / Jens Ruchatz (eds): Visuelles Design / Visual Design. Die Journalseite als gestaltete Fläche / The Periodical Page as a Designed Surface. Hannover 2019. (ISBN 978-3-86525-696-6
)
Abstract
Visual Design: The Periodical Page as a Designed Surface documents the findings of the first international conference of the DFG-funded research unit 2288 »Journalliteratur«. The contributions collected here deal with the visual design of the ›journal‹, taken to mean the whole spectrum of periodical print publications, including amongst others newspapers and magazines. Interest is focused on the periodical page (or double-page spread) as a visible printed surface on which words and images appear in a designed context. The premise is that the written and pictorial content of the periodical is not realized in abstraction, as disembodied and placeless, but remains tied to the periodical's materiality and its regimen of print, which provide for a two-dimensional and sequential arrangement of diverse visual elements. Thus, periodical-specific elements of (double-)page design are identified and outlined, not least in comparison to the formats of other media, especially the book. The papers deal with aspects of Anglo-American, German-speaking, French and Arabic periodical production, mainly of the ›long‹ nineteenth century.