The first issue of our series ›Journalliteratur‹ has been published!
Ed. by Andreas Beck / Nicola Kaminski / Volker Mergenthaler / Jens Ruchatz: Visuelles Design / Visual Design. Die Journalseite als gestaltete Fläche / The Periodical Page as a Designed Surface. Hannover 2019.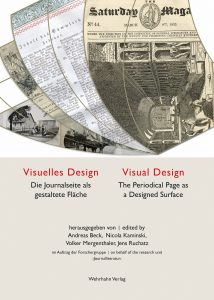 Visual Design: The Periodical Page as a Designed Surface documents the findings of the first international conference of the DFG-funded research unit 2288 »Journalliteratur«. The contributions collected here deal with the visual design of the ›journal‹, taken to mean the whole spectrum of periodical print publications, including amongst others newspapers and magazines. Interest is focused on the periodical page (or double-page spread) as a visible printed surface on which words and images appear in a designed context.
The premise is that the written and pictorial content of the periodical is not realized in abstraction, as disembodied and placeless, but remains tied to the periodical's materiality and its regimen of print, which provide for a two-dimensional and sequential arrangement of diverse visual elements. Thus, periodical-specific elements of (double-)page design are identified and outlined, not least in comparison to the formats of other media, especially the book. The papers deal with aspects of Anglo-American, German-speaking, French and Arabic periodical production, mainly of the ›long‹ nineteenth century.