12. März 2019, 13:00-18:15 Uhr | Philipps-Universität Marburg
Vincent Fröhlich (TP5) organisiert in Kooperation mit Sonja Feßel vom Deutschen Dokumentationszentrum für Kunstgeschichte – Bildarchiv Foto Marburg (DDK) das zweisprachige Nachwuchskolloquium "Das gedruckte Bild in Büchern und Journalen / The Printed Image in Books and Journals".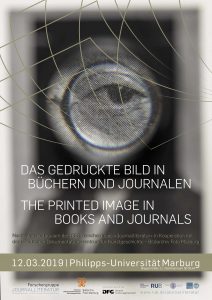 Als Experte für die Erkennung fotomechanischer Reproduktionsverfahren konnte Johan de Zoete gewonnen werden. Paul Fyfe und Andrès Mario Zervigón werden als internationale Gäste der Veranstaltung beiwohnen. Neben einer Einführung in verschiedene Bildreproduktionsverfahren in Journalen und Büchern sollen in einer anschließenden Materialstunde einzelne Objekte aus dem Bildarchiv von Foto Marburg sowie den Korpora der Forschungsgruppe Journalliteratur analysiert werden.
Veranstaltungsort: Philipps-Universität Marburg, Biegenstraße 11, Seminarraum 00 014A
Wenn Sie an der Veranstaltung teilnehmen möchten, schreiben Sie bitte eine E-Mail an Sabine Wirth (Koordination): journale@staff.uni-marburg.de.